By Kim Polacek, APR, CPRC, Strategic Communications, Moffitt Cancer Center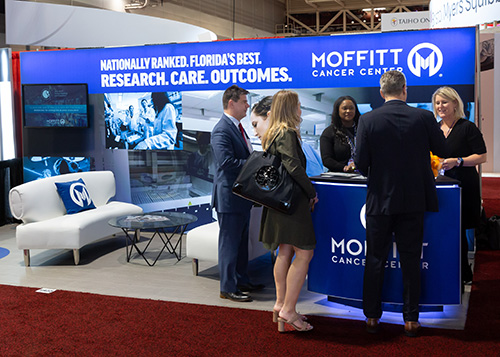 As we reflect on 2022, I think of all the scientific conferences I attended throughout the year. While I travel for media relations purposes, our marketing team also attends to handle our booth on the exhibit floor of each conference. I often visit them in the booth during each meeting and I hear the same question over and over again from attendees – "Why are you here?" It's not some existential question. People want to know why a cancer center is mixed with all the pharmaceutical and medical services companies in the exhibit hall.
The simplest answer is brand awareness. Sure, our main focus when it comes to brand awareness is to bring new patients into our institutions. But scientific conferences give us the opportunity to take our brand to new levels. It can be helpful with recruitment of physicians, researchers, fellows and post docs. It can also help spark new research collaborations with institutions and industry partners.
"There is a good mix of people who stop by our booth during a conference. We see physicians who want to know more about what our institution offers. We also have pharma companies asking to connect us with doctors to discuss clinical trials and research opportunities," said Sheila Interrante, Moffitt Cancer Center's field marketing director. "The booth space is another way we can support our faculty and researchers who are participating at the conference. We allow them to use the space to meet with colleagues or set up industry meetings in a branded atmosphere."
Our marketing team exhibited at eight conferences in 2022, with the communications and human resources team assisting at a few meetings.
It is an investment when choosing to exhibit at a scientific conference, but there are options that can help you meet your goals while being cost effective. For example, non-profit institutions can often get discounted booth space. However, with the recruitment, partnership and awareness benefits, it is a tactic you may want to consider adding to your 2023 marketing plan.