By Javier De Jesus, Sr. Manager of Web & Digital Initiatives, Winship Cancer Institute of Emory University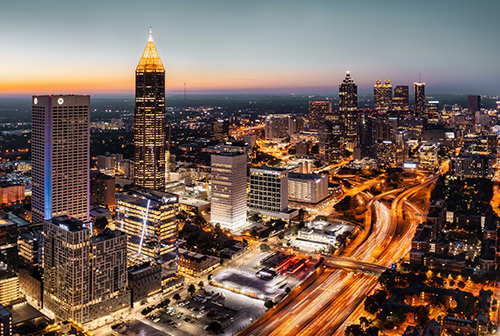 I remember attending the 2019 NACCDO-PAMN Conference in Oklahoma City and being so nervous when we walked into the joint steering committee to bid as hosts. We distributed packets and custom Winship-labeled Coke bottles (I still have mine), gave our presentation, then stood outside while the decision was made. We were thrilled when we were informed we got it! Who knew then that it would be four years later before we hosted, but here we are just weeks away now. We can't wait to see all of you this April!
The timing has worked out as we will be able to share what we have been working on so hard for the past few years. Our new 17-story cancer care center Winship Cancer Institute at Emory Midtown, only a few blocks from where the conference will be held, will officially open just a week after the conference. The new facility is uniquely designed with specialized care communities bridging outpatient and inpatient care and integrating our research into preventions and treatments. I encourage all of you to arrive early to join us for an exclusive tour of this remarkable new facility on Monday afternoon of the conference. See details about the tour on the conference activities webpage.
During your stay, you will be in the heart of downtown Atlanta with access to many local attractions. Within a few blocks from the conference hotel, you can visit Centennial Olympic Park, the Georgia Aquarium, the World of Coca-Cola, the College Football Hall of Fame and the National Center for Civil and Human Rights or take a ride on the Skyview Atlanta Ferris wheel.
As the "cradle of the Civil Rights Movement" and the birthplace of Martin Luther King Jr., you can visit many of the landmarks in Atlanta that played a role in the movement within a short drive or street trolley ride from the hotel, including Ebenezer Baptist Church and the Martin Luther King, Jr. National Historic Site.
Known for its broad music scene from Southern hip hop to alternative rock and more, Atlanta has many live music venues with a busy concert lineup. While in town, you'll be able to catch many of today's top performing artists including pop star Janet Jackson, rapper Lil Wayne, singer songwriter Ben Folds with the Atlanta Symphony Orchestra and even 80's throwback Billy Idol. Alt-rock band Wilco will be performing a little over an hour away by car in Athens, Georgia.
For sports fans, Atlanta is home to the World Series champions, the Atlanta Braves, who will be playing a series the week of the conference against the Miami Marlins at Truist Park. We've arranged for a group night for conference attendees to enjoy the game on Wednesday, April 26. For soccer fans and anyone arriving early over the weekend, Atlanta United will be taking on the Chicago Fire at Mercedes-Benz Stadium on Sunday, April 23.
For foodies, Atlanta has a robust restaurant scene with award-winning eateries, funky "hole in the walls" and food from all over the world. Not too far from the hotel, you can hop along and try different places to eat at Old Fourth Ward, Inman Park and Krog Street Market all along the Atlanta Beltline. You won't want to miss the Tuesday evening dine out event on the rooftop Skyline Park at Ponce City Market. And for the craft beer lovers, Atlanta is "overflowing" with great breweries and brew pubs including Halfway Crooks, Wild Leap, Monday Night, New Realm and many others.
Runners and walkers have plenty to take in with miles of pathways including the Atlanta Beltline and Atlanta Freedom Trail. Near the hotel, there are three routes we've designed that are sure to test your mettle and even allow you to see some of the sites mentioned above. Here's a two-mile route into Centennial Olympic Park, a three-ish mile route highlighting Civil Rights sites and an adventurous five-mile route out to the Carter Presidential Center and back.
This is all just a small part of what Atlanta has to offer. For a deeper dive, we recommend visiting the Explore Georgia and Discover Atlanta websites.
We can't wait to host all of you in our wonderful city and see you in person. We hope you'll enjoy your stay while attending the conference. See you in April!