Erin Hayes is internal communications manager at UCSF Helen Diller Family Comprehensive Cancer Center. She has been a PAMN member for eight years.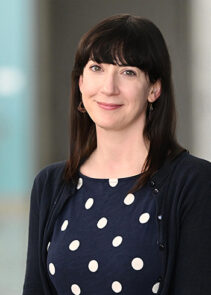 What led you to work in cancer communications?
Before finding my way to the UCSF Cancer Center in 2014, I worked for an academic publisher, a non-profit focused on public health, and a health sciences library.
What do you like most about working in the cancer field?
Every task I complete is directly or indirectly in support of cancer research, patient care, community engagement or training efforts. What could be more rewarding?
What's your best advice for someone new to the field?
PAMN members work alongside the nation's leading cancer physicians and researchers, and that can be intimidating at first. Remember that you offer a unique skillset that's vital to the operations of your cancer center. It takes a village!
How do you balance your career and family/personal life?
I do my best to reply to work emails and messages during business hours and not on nights and weekends. Every day around noon, my dog reminds me that it's time – hi, it's time!! – to step away from the computer and go for a walk. Fortunately, my team is very respectful of personal time, and that creates a positive work culture for all of us.
On weekends, I take advantage of all the SF Bay Area has to offer: beautiful outdoor spaces, music and culture, wine tasting and the wonderful community that lives here.
Do you have a favorite line from a movie?
The movie Clue (1985) lives rent-free in my head at all times. Whenever someone uses the phrase, "to make a long story short," I have to try very hard not to respond, "TOO LATE!" | Watch
 What was your best vacation?
I feel like every vacation is my best vacation! That said, I had a lovely time traveling around Ireland last year.
If you could drink only one beverage for the rest of your life, what would it be?
Water!
If you had to eat one meal, every day, for the rest of your life, what would it be?
Some form of stir-fried noodles (e.g., Pad Kee Mao, Yakisoba, Dan Dan noodles, Jajangmyeon). I love them all.
What is your biggest pet peeve?
Driving very short distances when walking would do
What is your hometown?
Sunny Los Angeles
Would you like to be featured in a future PAMN Member Spotlight? Submit your responses here.