Kanna Rook is a associate director of strategic communications at Siteman Cancer Center. She joined PAMN in 2022.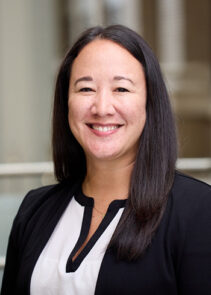 What led you to work in cancer communications?
I had a background in nonprofit (American Cancer Society) and healthcare communications, so this role at Siteman Cancer Center seemed to be the perfect blend of both – and so far it has been! I also lost my father to brain cancer in 2011. He was a Siteman patient, so working for Siteman is extra special for me.
What do you like most about working in the cancer field?
Telling our incredible patient stories.
What's your best advice for someone new to the field?
Give yourself time to learn the field and your organization – knowing the lingo and all the players helps immensely!
How do you balance your career and family/personal life?
I try to leave work at work and participate in activities after work that help me relax and have fun – like playing sand volleyball, going to concerts, dinners with friends, etc.
Do you have a favorite line from a movie?
"Get busy living or get busy dying." Shawshank Redemption
What was your favorite vacation?
Recently, going to St. Lucia with a group of about 20 of my college friends.
If you could drink only one beverage for the rest of your life, what would it be?
COFFEE
If you had to eat one meal, every day for the rest of your life, what would it be?
Pizza
What is your biggest pet peeve?
Cubs fans
What is your hometown?
St. Louis
Would you like to be featured in a future PAMN Member Spotlight? Submit your responses here.