Kayla Clay is a Senior Marketing Specialist at the Mayo Clinic Comprehensive Cancer Center. She has been a PAMN member for just over a year.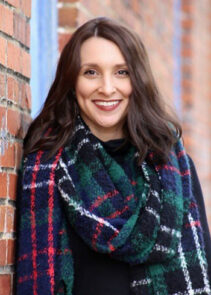 What led you to work in cancer communications?
I began my journey in health care supporting public relations for a national, publicly traded post-acute care company. During my five years there, I engaged with patients regularly, and my purpose of helping connect people with the care they deserve and need developed. I made the transition to marketing, specifically managing digital channels and properties, which further shown a light on the need for greater health care literacy and ability for health care providers and organizations to effectively reach out to people of differing backgrounds.
While in Birmingham, Alabama, I had my own personal scare with cancer. My doctor believed I might have cervical cancer and performed a biopsy, which we learned was high-grade dysplasia. I was told my cells rapidly changed, and I was as close to cancer as I could have been. I've never been more thankful for access to health care and cancer prevention in my life.
My family needed to change markets for my husband's job and Minnesota was on the list. I applied for a performance marketing role not knowing initially what service line I'd be assigned to. Along my candidate journey with Mayo Clinic, I kept crossing paths with those who benefited from the Cancer Center and to this day I feel I was led to this role supporting cancer for a reason. It sparked a fire in me as cancer affects virtually every person, whether directly or indirectly, on the planet.
What do you like most about working in the cancer field?
Now having worked with Mayo Clinic Comprehensive Cancer Center for four years, I've witnessed life-changing and life-saving moments from our researchers, providers and patients. I never take a moment for granted that I have the pleasure of working in this field, learning first-hand of the innovations that are having profound impacts on the world.
Being a marketer, it's unique to 100% align with your client/partner's vision and mission and know that you are an extension of work that is saving lives. I am reminded each week of how precious life is and time with those we love is priceless.
In addition to aligning with my own personal values, I am a life-long learner and challenge-seeker. It's no secret to any of us that we are working in a highly regulated and complex environment. There's more at risk when we're planning campaigns, when we're crafting messages and when we're analyzing data. It pushes me to never be complacent and is a reminder that I'll never know everything about the industry I support, so I'd better keep reading and searching for more insights and answers!
What's your best advice for someone new to the field?
Talk to patients and families if you can. Listen to what's important to them, to their challenges, to why and how they made the decisions they made. Part of our work is to connect people with the best care for them. The other part is to break down barriers in understanding cancer research and treatment and accessibility, whether that be to care or how various communities can interact with our organizations online and request appointments. We have a big job.
Learn the business. This can sometimes feel at odds with our mission, but without funding and an understanding of what keeps the lights on, we can't effectively communicate and influence. Know where revenue is coming from. Know how operations is doing and where there is access or none. Know your opportunities within the market and who your work should be connecting with.
How do you balance your career and family/personal life?
We have an 18-month-old daughter, and she is the best person I've ever met. I keep in mind that no one else can fill the shoes of wife and mother to my family. No one else will make the holidays special for them. When I'm working, I'm focused on work and producing the best product and experience for my service line that I can. When I'm with family, the computer is closed and the phone is down. Being fully present for both helps me feel balanced and successful.
Do you have a favorite line from a movie?
This would have been a cooler answer if asked of my husband. He's a movie buff with a mind like an encyclopedia. "Inconceivable!" – who doesn't love The Princess Bride?
What was your favorite vacation?
Jackson Hole, Wyoming, in 2020. We were supposed to go to Ireland and roadtrip around the southern half of the island. COVID had other plans, so we switched flights and accommodations. We went to Jackson in September and it was perfect. Hiking in the Grand Tetons, long-distance biking, Yellowstone National Park… and at night we had the nightlife of downtown Jackson.
If you could drink only one beverage for the rest of your life, what would it be?
Water — seriously I love it.
If you had to eat one meal, every day for the rest of your life, what would it be?
Tacos, chips and salsa
What is your biggest pet peeve?
Noisy eaters – one of the benefits of working from home
What is your hometown?
Honoraville, Alabama
Would you like to be featured in a future PAMN Member Spotlight? Submit your responses here.