Madeline Brophy is a communications program coordinator at Siteman Cancer Center. She has been a PAMN member for one year.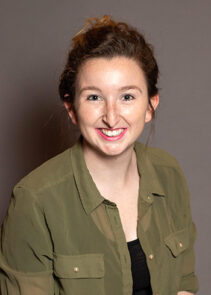 What led you to work in cancer communications?
My background is in public health and film/media so it was a tale of two love stories coming together – and I couldn't be happier helping people live healthier, longer lives.
What do you like most about working in the cancer field?
I learn something every day – and I do mean that. There's always new research or a fun factoid my doctors will share, usually to brighten my day. There's so much advancement in cancer care but also therapies and preventive medicine. I'm excited to hear about it every day. I also learn how to become a better media professional by working with my colleagues. They are all rock stars.
What's your best advice for someone new to the field?
Don't try to learn everything all at once. Take it day by day. Usually a new job or position can take six months or more to learn and get the grasp of, but with cancer care there's never a moment where you've learned it all. I think that's exciting, but it can also be overwhelming. It's also quite sad – I now work with childhood cancer patients and that's a whole new ballgame. It can also be quite a personal journey – lots of people are touched by cancer in various ways. Ask for help when you need it.
How do you balance your career and family/personal life?
I try not to take myself too seriously. I have hilarious pets at home and my husband makes me feel very special and loved. I have family close by and afar so any chance I can take to hang out with them and/or travel for a trip, I try to take. Having a supportive team at work is key and I feel that I have more than that. I'm very lucky.
Do you have a favorite line from a movie?
From a TV show actually. It's Lucille Bluth (Arrested Development) saying, "I don't understand the question, and I won't respond to it." Or Lorelai Gilmore asking "How does ink come out of pens?!" when told there are no stupid questions.
What was your favorite vacation?
Any time my family travels to the beach, I am in heaven. That's my kind of vacation right there.
If you could drink only one beverage for the rest of your life, what would it be?
Coke or red wine, for sure. Ideally, both.
If you had to eat one meal, every day for the rest of your life, what would it be?
Oh no! I hate this question because I am such a foodie and like variety. I suppose it'd be a fabulous steak dinner with a baked potato and creamed spinach. My favorite meal ever.
What is your biggest pet peeve?
I have a very chill way of looking at life, very type B (which can annoy my husband!) and I know that's not always easy to deal with. I think I do best when I work with flexible and kind people who just want to do the best job they can. I don't like when others are not considerate or "talk down" to people. We all have something to bring to the table.
What is your hometown?
Arlington Heights, Illinois
Would you like to be featured in a future PAMN Member Spotlight? Submit your responses here.