By Josiane Dubois, Internal Communications Specialist, Huntsman Cancer Institute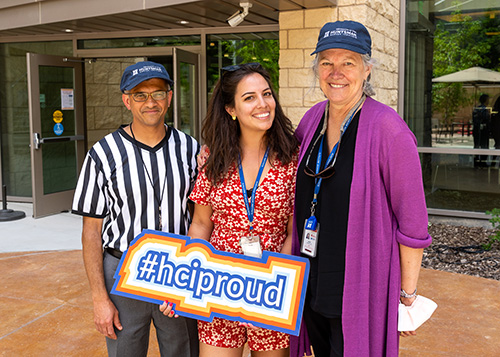 Before the COVID-19 pandemic, many companies had not thought about the essentialness of internal communication. Quickly, employers needed to share policies and messages while employees searched for the same information. Internal communication, employee engagement, retention, job satisfaction, connection, and belonging are just some of the many topics trending on the internet the last three years. As an internal communication professional, I have been brought into many conversations across the institution where these topics are priorities. At the heart of what everyone is trying to achieve is improving employee experience.
Understanding the journey an employee takes in an organization is vital to putting together engaging and relevant communication. Building your internal communication strategy with the employee in mind not only benefits them and addresses their unique needs, it empowers leaders, managers, and other key stakeholders to engage with purpose.
The employee experience starts from attracting a potential employee all the way to their eventual departure. Gallup Inc., one of the world's biggest analytics and advisory firms, identified seven points in time that influence an employee's perception of the organization:


Consider the following steps when building your internal communication strategy. The goal is to create a shared vision, build trust, and define shared responsibilities:
Identify who at the organization employees will interact with or hear from throughout every stage of their experience. Make sure these stakeholders are well-prepared and understand the importance of their roles in the process.
Categorize who you are targeting, what their concerns are, and how best to reach them. Consider external audiences, too. Social media platforms like LinkedIn are a great way to share a message from your CEO about an organization change or message that can inform candidates—your future employees.
Focus on organizational principles and objectives you want to drive versus behavioral objectives you want employees to meet.
Think like your audience. How do you want them to feel? What do you want them to know? What do you want them to do? This is imperative to create effective messaging and lead to action.
Review communication channels and timing. It is important to reach people at the right time and through their preferred platform—flyers in breakrooms, weekly enewsletters, messages during staff meetings. Remember, you don't have to use every platform to reach every employee. Listen to your audience and reduce the noise.
Measure your tactics and objectives. Ask employees what is working and what is not working. Did they engage with the call to action and know the next steps? Use this information to continue updating your strategy.
Effective internal communication should involve key partners to create a supportive workplace environment that leads to better performance and engagement. Remember, strategy is only as good as the implementation.