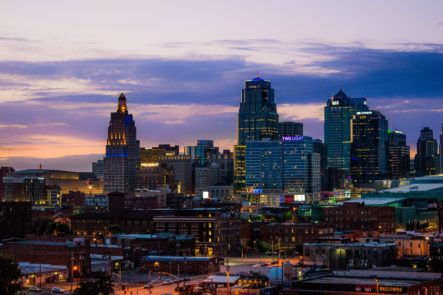 Ready to arrive in the City of Fountains? Whether you're returning after a few years or coming to KC for the very first time, there are a few essentials everyone should know.
IN THE HEART OF IT ALL
Known to many as the Heart of America, Kansas City is in the center of it all—and when you arrive, the Kansas City Marriott Downtown puts you right in the middle of everything KC has to offer. Moments from the historic River Market neighborhood, the Power & Light District's bright lights and live entertainment, and the hip, ever-evolving Crossroads Arts District, it's all connected by the free KC Streetcar.
Explore more of the neighborhoods, restaurants and attractions along the KC Streetcar line.
KANSAS CITY IS KNOWN FOR ITS WORLD-CLASS BARBECUE
Slow-smoked goodness comes in many forms, but KC-style barbecue stands alone as one-of-a-kind. Some cook low and slow while others prefer high heat and faster results, but all pay homage to the forebearers of KC's signature cuisine.
The city's barbecue craze can be traced back to Henry Perry, who in the early 1920s started barbecuing in an outdoor pit adjacent to his streetcar barn, serving slabs of meat wrapped in newspaper. Perry's delicacies became so popular that fans began imitating his technique and style to create their own unique recipes.
Now, Kansas City barbecue enthusiasts can satisfy their cravings at more than 100 mouth-watering restaurants dotted around the metro, and there's even a dedicated way to track your own journey through the area's barbecue scene. Download the KC BBQ Experience app to find locations near you, keep notes on what you've tried during each visit and take a closer look at KC's history as a hotspot for barbecue.
THERE ARE FOUNTAINS EVERYWHERE
It shouldn't come as a surprise where KC got its "City of Fountains" nickname. The only other destination in the world that rivals Kansas City for most fountains is Rome.
For some of the most iconic spouts in the city, stroll through the Country Club Plaza, take in the sights outside Union Station and spot plenty of others in between.
THE "PARIS OF THE PLAINS" LIVES ON
Once known as the "Paris of the Plains" during Prohibition, Kansas City's rebellious spirit lives on in a cocktail culture that distills drinks into an art form and area breweries that keep customers satisfied with unique and flavorful brews.
Kansas City's jazz roots run deep. Sample the city's signature sound at jazz clubs around the metro, including The Blue Room and the Green Lady Lounge, or a late-night session at the Mutual Musicians Foundation.
KANSAS CITY IS FAMILY-FRIENDLY
From al fresco adventures to indoor entertainment, good eats and more, kids of all ages are welcome in Kansas City.
Head to Crown Center for imaginative adventures at Legoland Discovery Center, Sea Life Aquarium and Kaleidoscope. The Kansas City Zoo is an all-time favorite while The National Museum of Toys and Miniatures is filled with wonder.
MUSEUMS REIGN SUPREME IN KC
Chart the course of American history at institutions such as the Negro Leagues Baseball Museum, the National World War I Museum and Memorial and the Harry S. Truman Presidential Library and Museum, plus other national museums throughout the region.
Those in search of fine art need look no further than The Nelson-Atkins Museum of Art and the Kemper Museum of Contemporary Art, two essential KC experiences.
KC CUISINE FEATURES FAR MORE THAN BARBECUE
International flavors, comfort food delights, James Beard dishes and fine-dining experiences are all exemplary standouts in Kansas City's culinary scene.
Try Port Fonda for traditional Mexican fare, Corvino Supper Club & Tasting Room for a medley of upscale flavors, Rye for down-home specialties and The Antler Room for intimate small plates.
ARTS ARE ESSENTIAL TO KC CULTURE
The arts continue to shape Kansas City culture, from the maker movement and the 100-plus galleries scattered throughout the Crossroads Arts District to awe-inspiring performances at the Kauffman Center for the Performing Arts.
ICONIC SIGHTS DOT THE METRO
There's always something remarkable to discover in Kansas City. Tour the Country Club Plaza for signature boutiques and high-end shopping, but stick around for the Spanish-inspired architecture, countless fountains and picture-perfect patios.
Meanwhile, visitors will find eye-catching installations throughout the region, including at local landmarks such as The Scout and Museum at Prairiefire.
KANSAS CITY LOVES ITS TEAMS
Diamond, pitch, gridiron or racetrack, Kansas City touts a rich athletic history and an even more passionate fan base, regardless of the time of the year or event. Plan on spirited tailgates, uproarious crowds and memories that last a lifetime.
Get to know KC's sports culture.
OTHER NEED-TO-KNOWS
Population: 2.1 million (metro)
Nicknames: KC, City of Fountains, Paris of the Plains, Heart of America
Founded: 1838
Famous Kansas Citians: Full list
For other useful information, check out Visit KC's official Visitor Guide, a helpful resource for newcomers. See you in KC for the 2022 NACCDO PAMN Annual Conference!
Christine M. Thomas, JD
Director of Public Relations and Communications
The University of Kansas Cancer Center